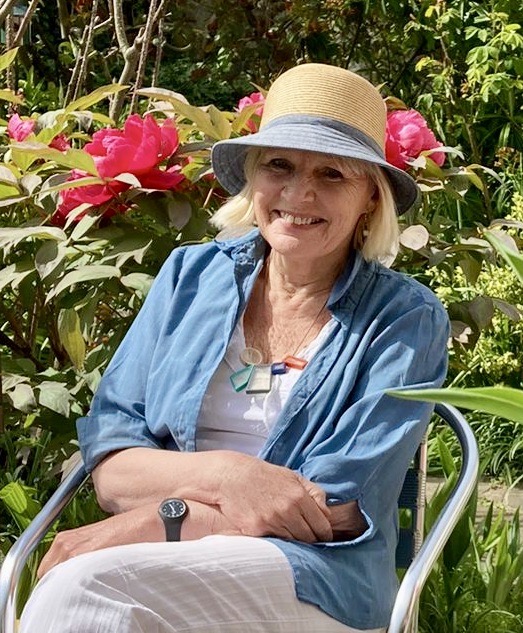 Nights drawing in, Virginia creeper acquiring its bright autumn garb, a dankness in the air – it must be October! We all know that the weather is liable to turn vindictive at any moment from now until at least March.
Let's turn for solace to our seasonal gardening jobs such as covering the pond, and replacing your summer bedding plants………
pond pampering
There simply isn't a better way of attracting wildlife into your garden than by having a pond, whatever its size. Because of this summer's hosepipe ban, our small garden pond is still below the level it should be, but winter rains should correct that. Nevertheless it has still been a haven for frogs, water-snails, dragonflies and their larvae and a myriad of other small creatures, and I want to keep it like that for another year.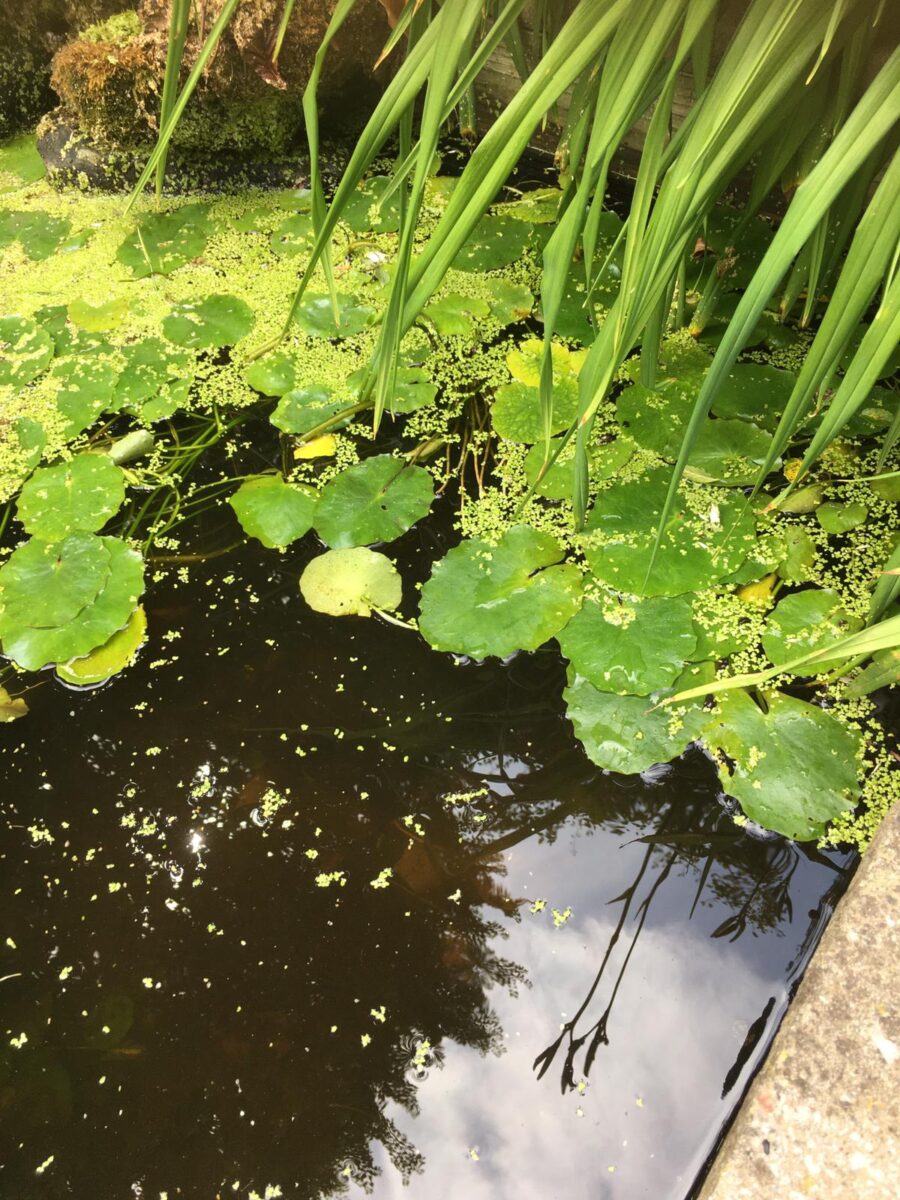 October is a good time to overhaul your pond – mainly to prevent it becoming a bog garden (which every pond aspires to be eventually). Wildlife such as fish, frogs etc. won't need clumps of weed or water lilies to protect them from the sun and their activity has slowed up. They won't have entered hibernation yet, though, so you won't be disturbing life-cycles too much by having a bit of a clean-out now.
Scoop out any dead or decaying leaves and vegetation and reduce the amount of silt that has built up over the last few years. Pull up the roots of plants that have taken over too much: this might be easier said than done – Iris pseudacorus and lots of reeds, for instance are VERY tough. I have found an old kitchen bread knife a handy thing to have about my person at such moments!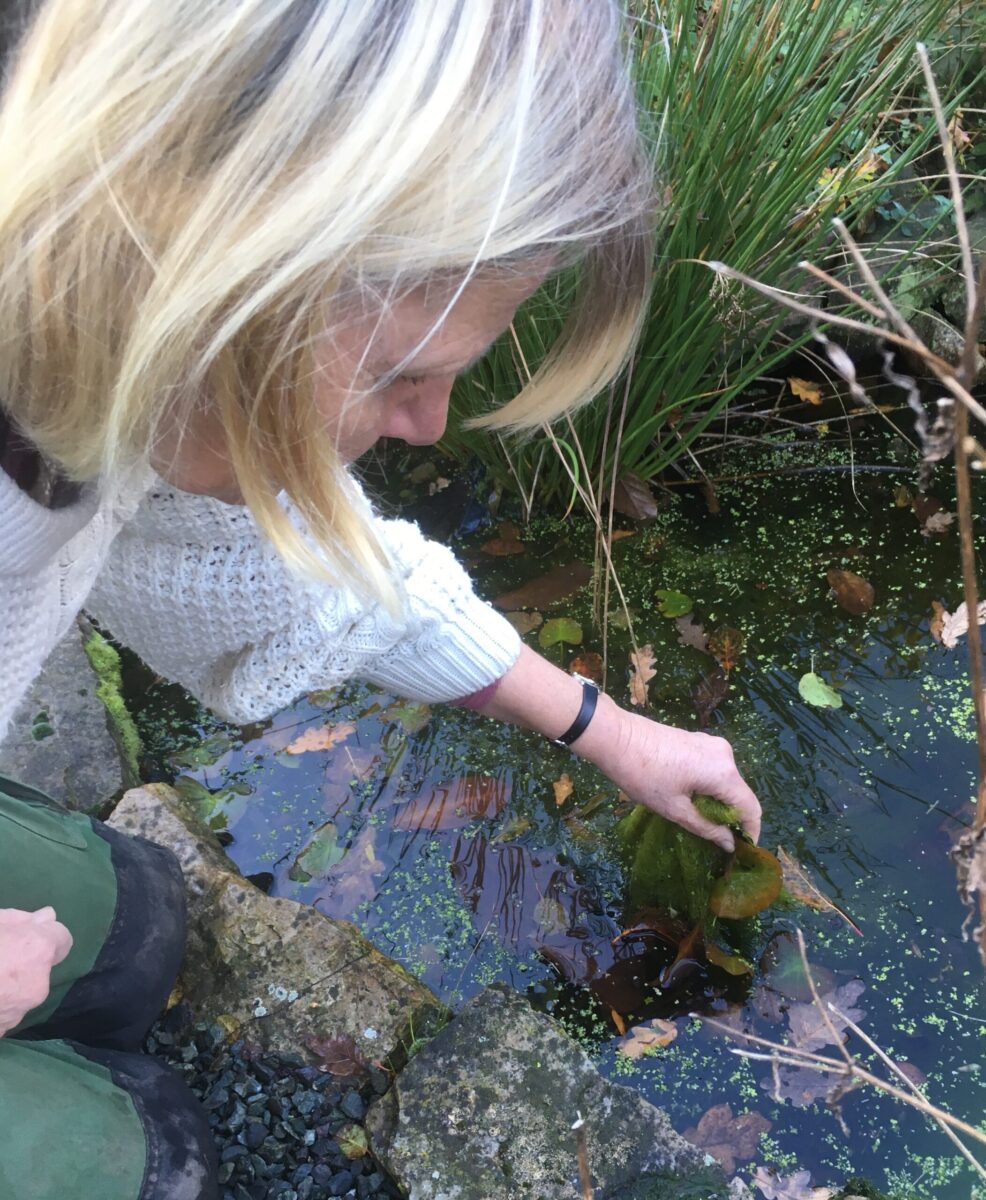 Always leave this material on the side of the pond for a couple of days so that any little organisms can crawl back into the water. This pile can then go on the compost heap for use in the garden borders – it's full of nutritious goodies!
Some guides advocate getting everything out of the pond, scrubbing the liner, filling it up and letting the water settle again before adding plants, fish etc. back again. That all seems pretty extreme to me, and only necessary if the pond is so silted up that it is barely a pond at all. Having said that, I do have one little 'pond' that is in need of such drastic measures! It would take at least a couple of years for the ecosystem to re-balance itself.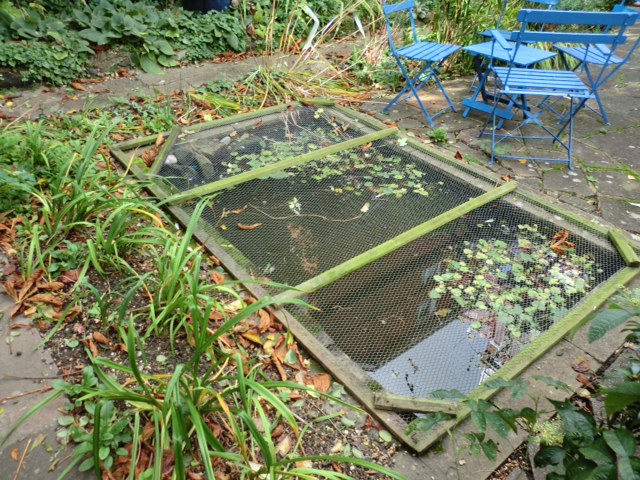 Once I've done the 'cleaning-out' bits, I shall move a home-made chicken-wire frame into position over the pond to prevent the water from filling with tree leaves once they start to fall. It has one corner without the wire so that any frogs can still easily get in and out of the water. I'll take the cover off again early in the new year.
That's it – all ready for pond perfection next summer – maybe!
apple store
Oooooh, look at the feature pic – we did have a lovely crop of apples this year! I took about 400 little apples off our 'Fiesta' tree in June, leaving one apple per cluster every 3-4" along the branch to develop to full size.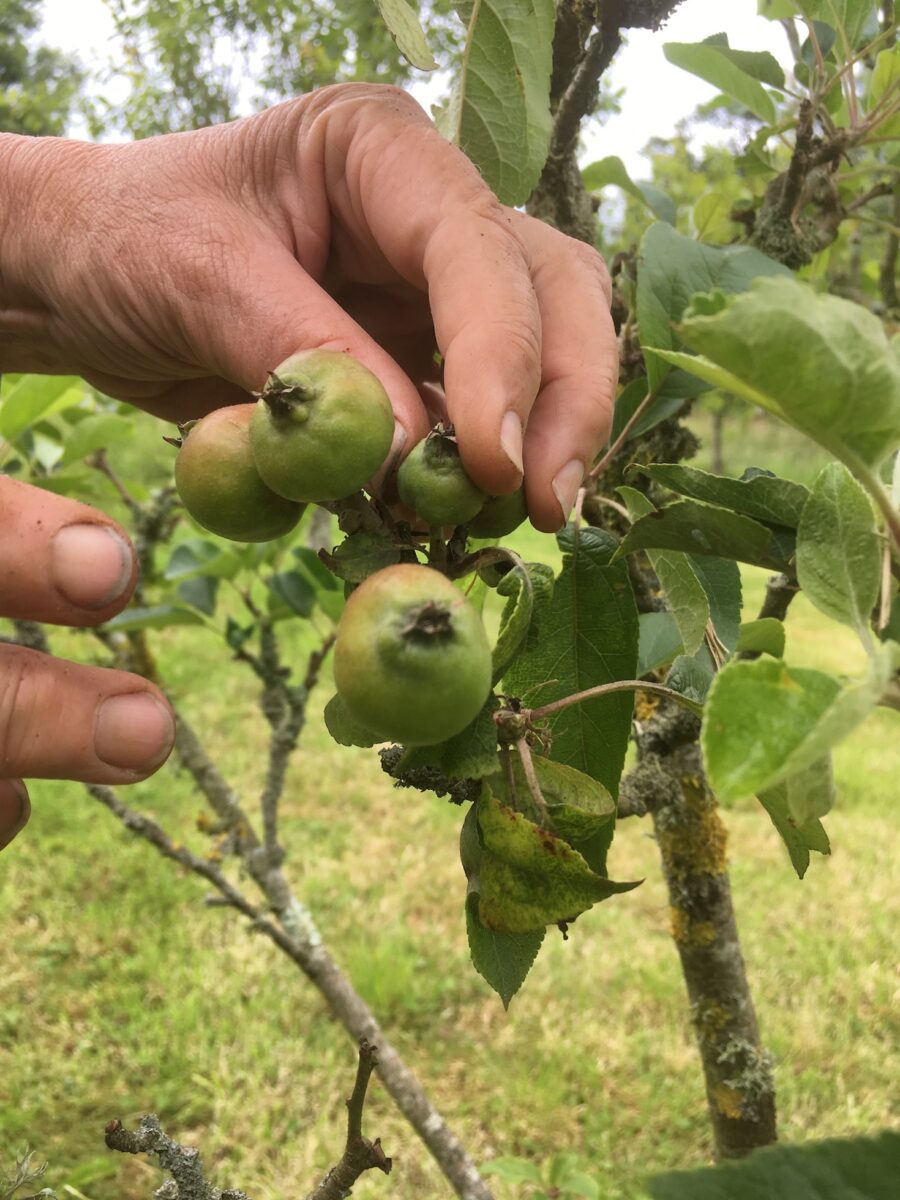 And we still had hundreds to pick in the last two weeks. Remember that the way to test if an apple is ripe is to lift it gently while it is on the tree; if the stalk breaks away easily, the apple is ready to harvest.
If you store apples carefully, they should keep well over the winter. Only store perfect fruit with no blemishes or bird-pecks etc. on them. Wrap each apple in newspaper to prevent them drying out or touching each other directly (you know what they say about 'one bad apple….').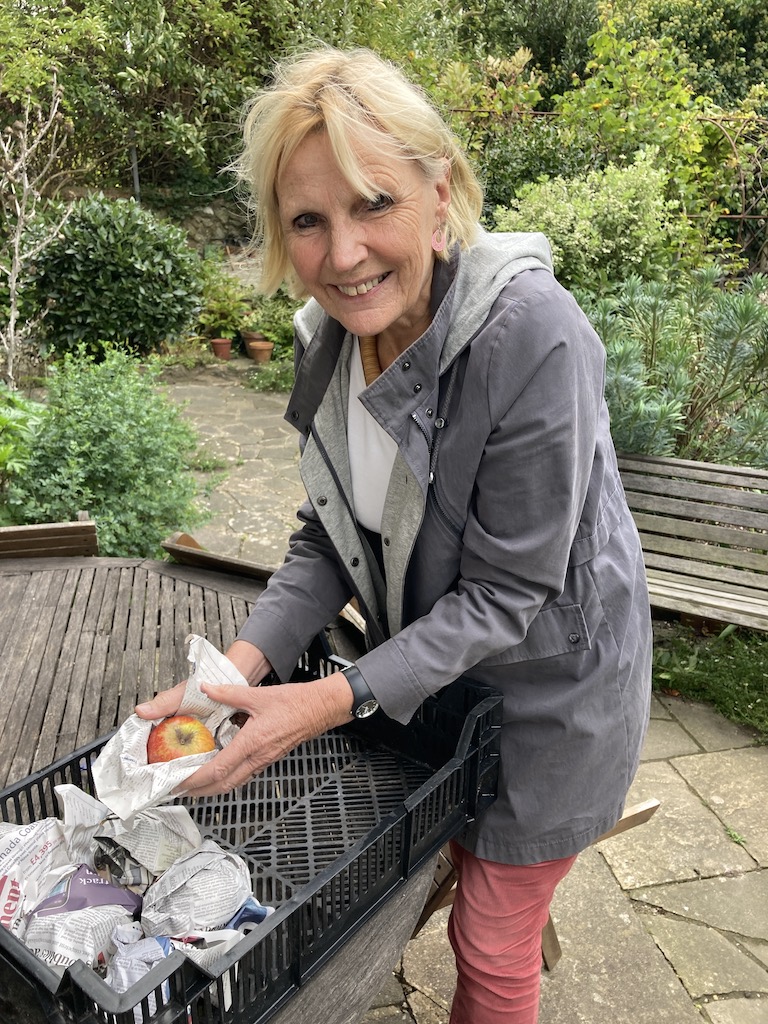 Keep the apples in crates in a cool dark place – perhaps a rack in the shed if you have such a thing? Keep them away from other fruit or flowers – the ethylene gas they give off will ripen them more. Do check over the apples occasionally to make sure your preparations were successful. Happy munching!
Gardening shorts
Cut back tall shrubs by up to a third (this can include leggy bush roses) so that they are less likely to get rocked by strong winds. Don't go anywhere near camellias, mahonias or spring-flowering clematis with your secateurs though, or you will cut off all next spring's flowers!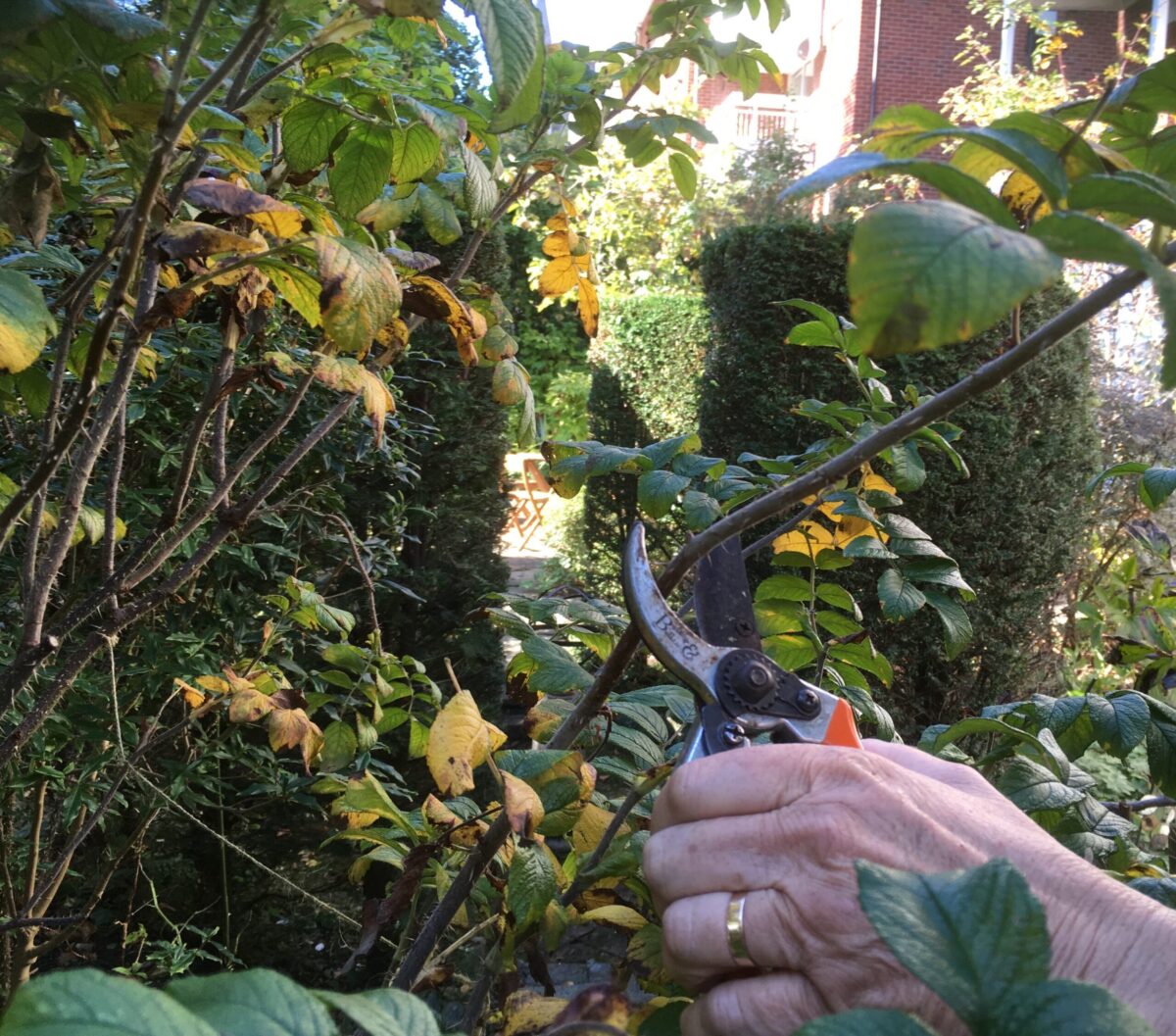 Summer bedding plants will be faltering this month – dig them up and re-cycle them by putting them on the compost heap. Replace them by taking an indulgent trip to your local garden center and browsing the winter bedding. Or perhaps get some cheap little plug plants mail-order and grow them on in little pots or modules yourself? Grow them on in a protected spot and then harden them off ready to plant out into pots or beds a bit later. I made a short video about doing this – link is at the bottom.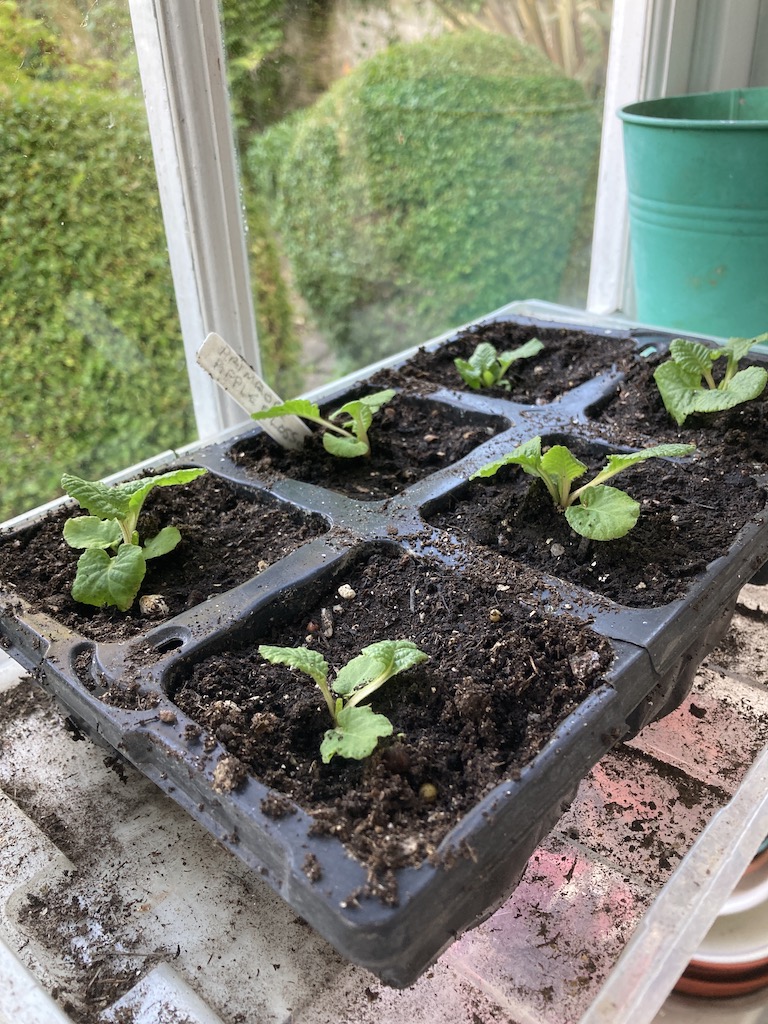 Harvest the last of your tomatoes now and clear away the stems. Green tomatoes can be put in a drawer or a shallow box inside, and they will continue to ripen. If you have long stems of them, cut the stems off and they can be left to ripen on the vine.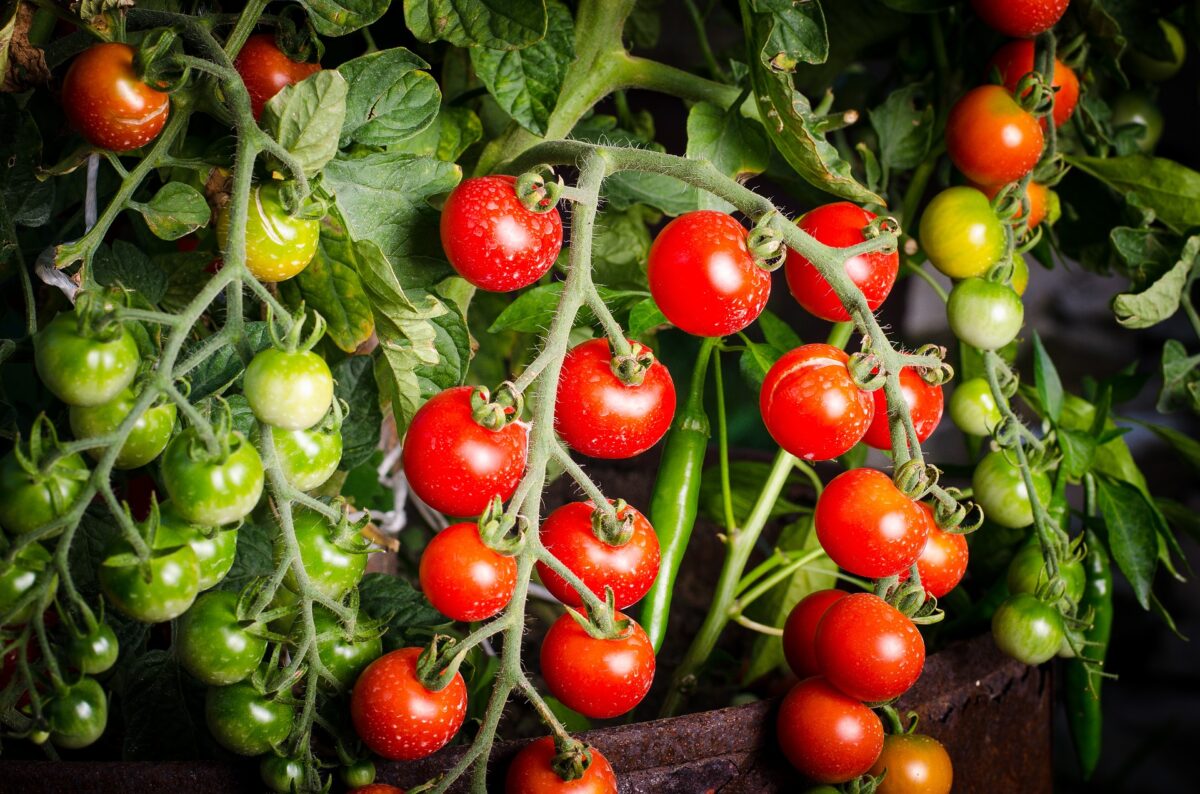 Keep dividing and replanting herbaceous perennials this month while there is still some warmth in the soil.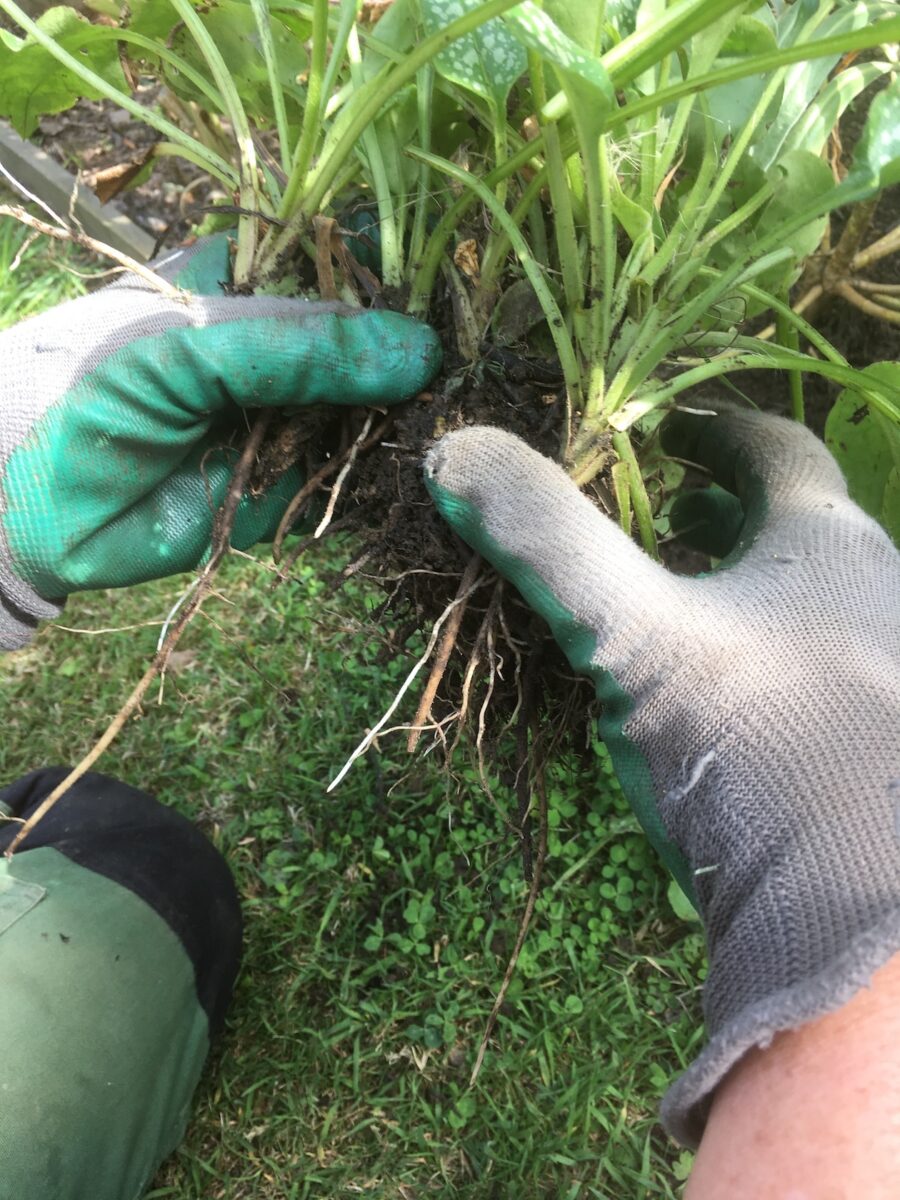 Here is the link to a short video about dealing with plug plants.
NB If you're not already a subscriber and you'd like a bit more gardening chitchat from the 3growbags, please type your email address here and we'll send you a new post every Saturday morning.